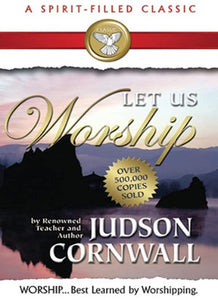 Let Us Worship
Regular price
$15.99
$0.00
In this powerful book you will learn many things about worship and how to lead others into worship. Jusdon Cornwall writes, "Worship is best learned by worshipping. We learn by associating with the object of our worship, for He is an excellent teacher."
"Let Us Worship" provides us with a comprehensive overview of the importance of worship. It is a believer's manual that leads the reader into the very presence of God.
"O come, let us worship and bow down: let us kneel before the Lord our maker. For he is our God; and we are the people of his pasture and the sheep of his hand" (Psalm 95:6-7).
by Judson Cornwall
Required Textbook for
Worship: Ushering In His Presence
by Dr. Jeff Johns
---
More from this collection